At I-O DATA, we apply ourselves to providing ever-improving quality in every aspect of function and performance, so that customers who insist on quality will choose I-O DATA products.
Creativity
Our trademark is the creative flair of our products. We offer a full lineup of products that could only have been developed by I-O DATA. We're proud of our development environment, which supports talented engineers in transforming their ideas into tangible form.
Original Environment-Responsive Products
One of our environmental efforts is aggressive "energy conservation design," not only for new products but also for products customers have already purchased. We don't disappoint customers who chose I-O DATA products.
Making computers easier to enjoy
At I-O DATA we provide products that make computers easier for our customers to enjoy.
Products that can be used anywhere
I-O DATA keeps customer convenience in mind, focusing on making products that can be used anywhere.
Quality
I-O DATA is certified under the ISO 9001 system of international quality standards. I-O DATA products are widely admired for their outstanding quality.
Noise testing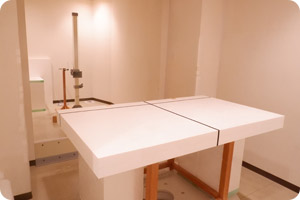 I-O DATA tests all its products in an electro-magnetic darkroom to ensure that the noise they generate is within standard limits. We also confirm that our products do not interfere with radio and TV reception.
Environmental testing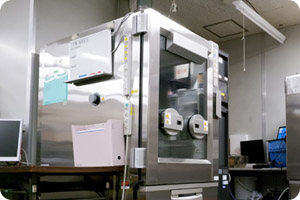 We confirm that I-O DATA products run correctly even under fluctuating conditions of temperature and humidity. Using a thermostatic chamber, we check our products under environments much more punishing than normal conditions.
Evaluation of waveform quality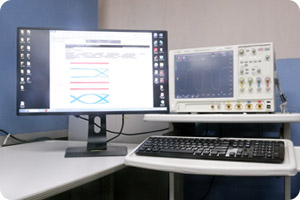 We evaluate products to confirm stable operation and compliance with all relevant standards.
Testing for hazardous chemical substances
To comply with the European RoHS Directive and other controls on hazardous chemical substances, products are evaluated for hazardous chemical substances using an X-ray fluorescence spectrometer,etc...
Making products customers can use with increasing confidence
Example: In pursuit of data safety we produced NAS LAN DISK XR series, which significantly reduces data loss and is compatible with RAID 6. Because the likelihood of failure of the power supply component tends to increase over time, we concentrate on improving quality by applying the expertise we have acquired over many years to the design and manufacturing of these components in Japan. And in order to ensure thorough quality management, we perform aging tests at the final stage when products are assembled and ready for shipping.